Song: Gathered
Gathered, gathered, God's people are gathered. Lift up your voice to our God. Gathered, gathered, God's people are gathered. Lift up your voice to our God.
(Acknowledge this is the last time we will be together as a community.)
Call to Worship Psalm 103:1-5
Praise God, my soul;
all my inmost being, praise God's holy name.
Praise God, my soul,
and forget not all God's benefits—
who forgives all your sins
and heals all your diseases,
who redeems your life from the pit
and crowns you with love and compassion,
who satisfies your desires with good things
so that your youth is renewed like the eagle's.
Silent Prayer
Gospel Reading: Matthew 11:25-30 (NIV)
Jesus said, "I praise you, Father, Lord of heaven and earth, because you have hidden these things from the wise and learned, and revealed them to little children. Yes, Father, for this is what you were pleased to do.
All things have been committed to me by my Father. No one knows the Son except the Father, and no one knows the Father except the Son and those to whom the Son chooses to reveal him.
Come to me, all you who are weary and burdened, and I will give you rest. Take my yoke upon you and learn from me, for I am gentle and humble in heart, and you will find rest for your souls. For my yoke is easy and my burden is light."
Song; Open Our Eyes
Open our eyes, God, we want to see Jesus. To reach out and touch You, and say that we love You. Open our ears, God, and help us to listen. Open our eyes, God. We want to see Jesus.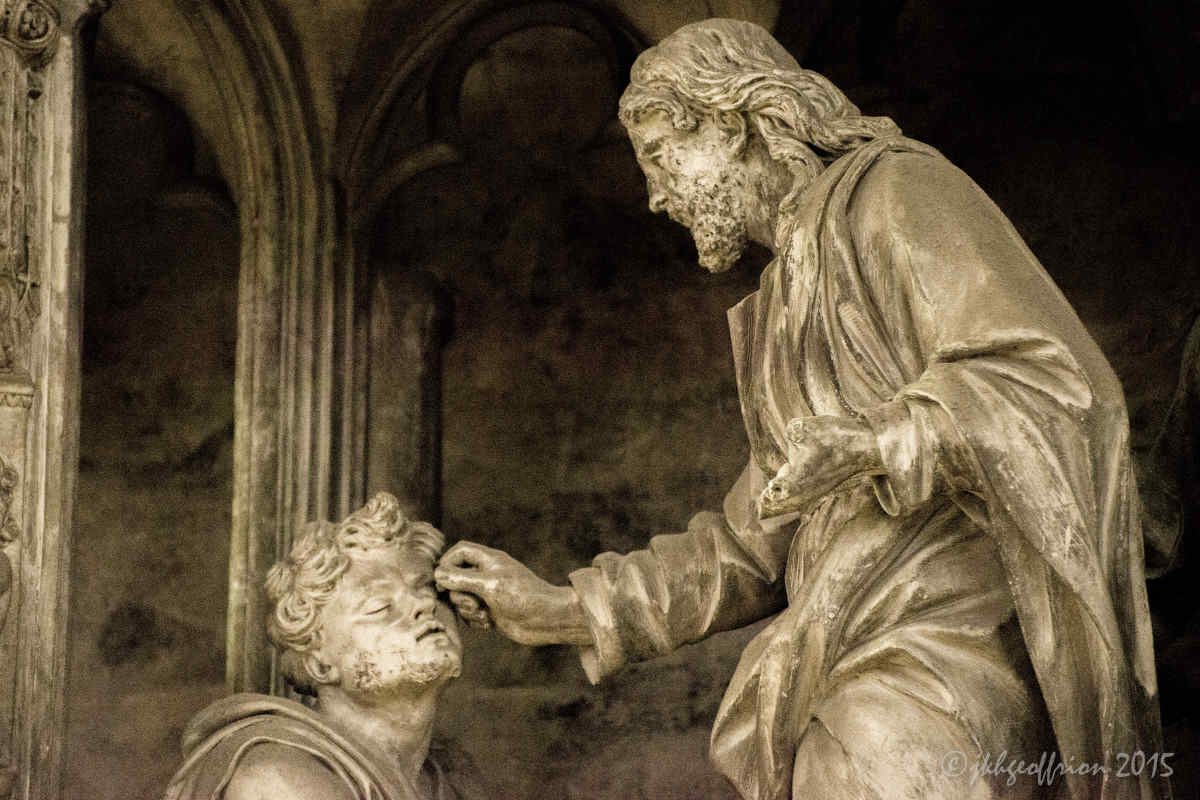 New Testament Reading: Ephesians 3:16-21 (NRSV)
I pray that, according to the riches of his glory, he may grant that you may be strengthened in your inner being with power through his Spirit and that Christ may dwell in your hearts through faith, as you are being rooted and grounded in love. I pray that you may have the power to comprehend, with all the saints, what is the breadth and length and height and depth, and to know the love of Christ that surpasses knowledge, so that you may be filled with all the fullness of God. Now to God who by the power at work within us is able to accomplish abundantly far more than all we can ask or imagine, to God be glory in the church and in Christ Jesus to all generations, forever and ever. Amen.
Homily
Song of Response: Give Thanks
Give thanks with a grateful heart, give thanks to the Holy One, give thanks because He's given Jesus Christ, His Son…
Prayers of Response: Leader and Pilgrims
Leader: Let us give thanks to God.
Gracious God, in whom we live and move and have our being, we lift our hearts and offer thanks to you for the wonders of the world about us, for humankind and the richness of love, for each new day of forgiveness and grace. With thanksgiving, we remember the one who was with you from the beginning, through whom all things were made, whose life is the light of the world, and who became flesh and lived among us as Jesus the Christ. For his life and ministry, for his teaching and example, and for his love,
Pilgrims: We thank you, O God.
Leader: For his victory on the cross,
Pilgrims: We thank you, O God..
For the hope that comes through his resurrection,
Pilgrims: We thank you, O God..
For the promise that in him all things shall be made new,
Pilgrims: We thank you, O God.
Grant, O God, that you Holy Spirit may be with us, and that through the bread and wine set apart for remembrance and thanksgiving Christ may come to dwell among us, and through him we may know you, whom to know is life eternal.  Amen.
Let us in silence offer our prayer for Christ's presence within and among us. A time of silence is observed.
Let us pray as Christ taught his disciples:
Our Father in heaven, hallowed be your name. Your kingdom come.  Your will be done on earth as it is in heaven. Give us this day our daily bread. And forgive us our debts, as we also have forgiven our debtors. And do not bring us to the time of trial, but rescue us from the evil one. For the kingdom and the power and the glory are yours forever. Amen.
The Lord's Supper
Blessing of the pilgrims
Spontaneous prayers offered by any wishing to do so
Song: Parting
Parting, parting, God's people are parting. Lift up your voice to our God. Parting, parting, God's people are parting. Lift up your voice to our God.
Benediction
Go in peace. Remember where you have been. Accept your present journey. Remain open to Sacred Connection. May that which has begun, continue. May it be so!