Approaching the Chapel
(Standing on the side or behind the chapel) Look into the chapel. What do you see? What do you notice about the statue? How do you feel as you look? Is there somewhere in the chapel you would like to stand, sit, or kneel?
When you feel ready, enter the chapel. Allow yourself time to get settled.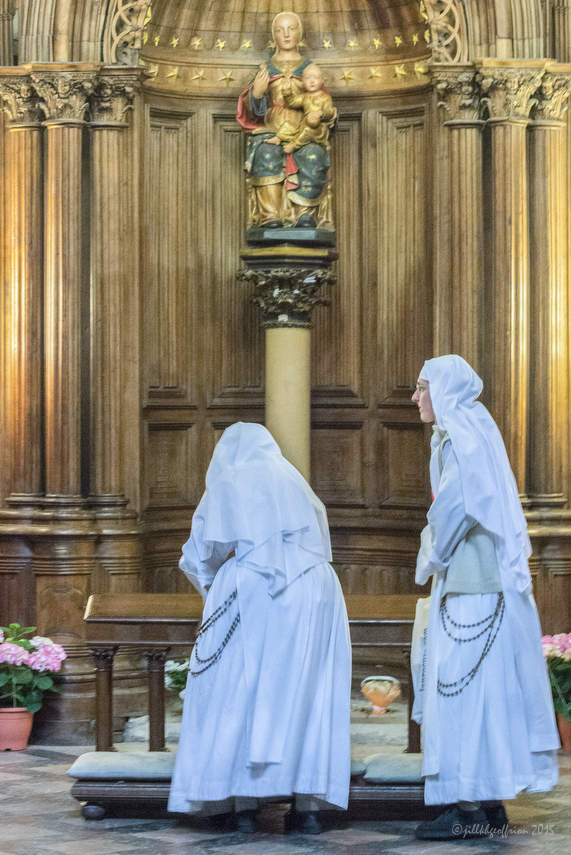 Prayer Ideas
Light a candle as a symbol of a deep desire of your prayer. Communicate with God about this.
Sit quietly as a prayer of waiting. Sense or imagine Mary and Jesus waiting with you.
Ask in prayer, "Why have You called me here?"
What are you seeing? Let your eyes invite you into prayer.
Be open to how God is trying to love you. You might pray, "God, help me to know your love for me in a deeper way."
Bathe in the accumulated prayer-energy of all those who have come to pray before you.
Use the written prayers that are left in the chapel by the cathedral staff.
Pray the rosary or use other prayer beads to bring focus.
Use the silence to "see through" the concrete into the infinite. Use the statue as an icon through which you look into God.
Ask Jesus to introduce you to his mother.
Mary Prayers

Talk to Mary. Tell her your story. Share your pain with her. Ask for her help.
Use "Mary" or the French, "Marie" as a silent prayer word to repeat mentally (mantra) as you sit quietly in the chapel.
Use "Ma" on every inhale and exhale as a way to focus your prayer.
Ask Mary to introduce you to her son.
Be still. Meditate for at least 10 minutes, but preferably longer.
When ready, touch or kiss the pillar (as you have seen others do) or touch your head to the pillar.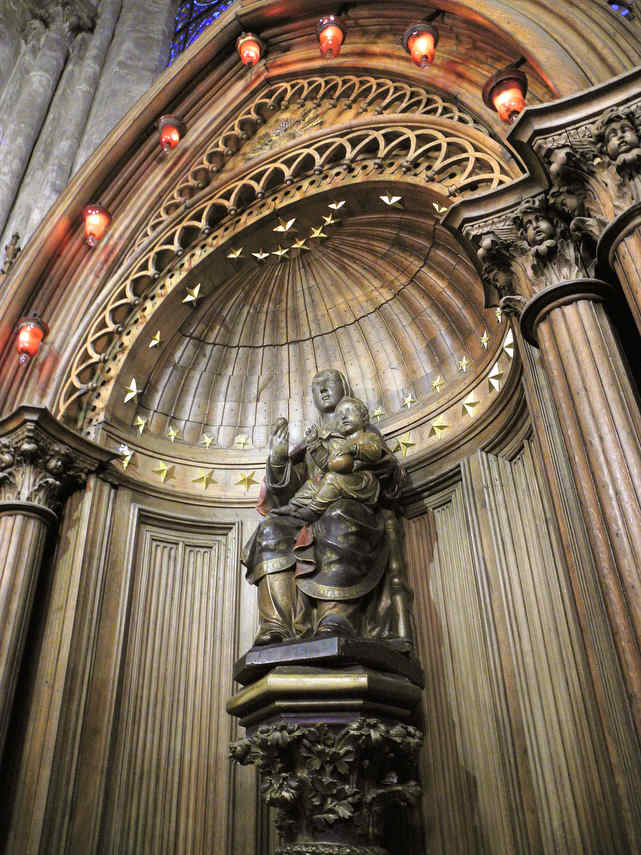 Historical Background
"Notre-Dame de Chartres was represented by a silver statue which was placed in the sanctuary (choir). However, the flow of pilgrims cramped the liturgy, so around 1508 a wooden replica was placed in front of the nave. Since 1806 his statue has been installed in the ambulatory." Bouttier, Michel. (1999). La Cathédrale de Chartres: Sa Construction. Paris: MB Editions, 26.
The Statue: Notre Dame du Pilier
The statue of Mary and Jesus is made from pearwood.
Jesus has bare feet. Mary has shoes on her feet.
Mary's gaze is straight ahead. She is holding a pear in her right hand.
Jesus sits on Mary's lap facing forward. He has his hand on a ball.
The Pillar
The pillar was a part of the ancient rood screen (jubé).
Other features of the chapel that might inspire or support your prayer:
The two stained glass windows above the statue. Look for the two images of the donors praying to the ancient statue of Mary of the high altar.
There are a series of little statues of saints in the front of the chapel. They include, to the left: St. Luke, to the right: Sts. Joseph, Anne, Joachim (father of Mary), Therèse (Little flower), Louis
A wide variety of carved circular shapes in the front of the chapel
The hearts, signs of gratitude for prayers answered.
Several shirt representations that were carved to symbolize the veil of Mary