Pilgrim,
Preparing for your visit to Chartres will make the time there all the more meaningful. Begin by identifying your needs, longings, and dreams. What feelings do you hope to experience? Is there an image that might help you to express what you desire?
Every visit I lead focuses on a particular theme, question, story, or cathedral element that you choose beforehand. You can expect to learn enough about the cathedral to feel well oriented, but not overwhelmed. The goal is always to make a meaningful connection with God using your mind, body, and senses.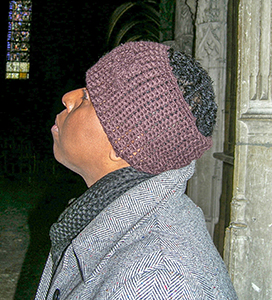 Think of your mini-pilgrimage as a time of spiritual accompaniment in which we will seek to know better how God's presence is supporting you. I will encourage you to stay focused, present, and open. Prayer, whether silent contemplation or spontaneous shared conversation with God, is an essential part of every visit. Suggested next steps for spending time in the cathedral (locations, images, experiences, and/or prayers) come near the end. When your visit concludes, your pilgrimage will continue.
To Arrange Your Visit: 
Jill is available for personal or group tours as well as key-note presentations and other teaching or pilgrimage rituals. Short (two-hour), medium (four-hour) and day-long (six-hour) visits are all possible. These can take place inside or outside the cathedral, or in a local meeting room (visual presentations). Those staying in Chartres for longer periods can work with Jill over the course of several days.
For more information, be in touch with Jill.
Your Guide
Chartres Cathedral grounds Jill through beauty, community, biblical theology expressed through art, and the prayers left by centuries of pilgrims. Jill spends at least three months in Chartres each year, daily praying, studying, and photographing in the cathedral. Always desiring to connect others with Christ's profound love, Jill custom designs visits, spiritual direction sessions, presentations, pilgrimages, and retreats for English and French-speaking individuals and groups of all sizes. Jill's interest in labyrinth prayer finds many outlets while she is living in France, including research on medieval manuscripts with labyrinths, labyrinth installations, and facilitation of labyrinth events in the cathedral and elsewhere. Joy is one of the primary emotions Jill feels and expresses while in Chartres.