Our Lady of Chartres, the cathedral of Notre Dame de Chartres, is dedicated to Mary, the mother of Jesus. While local devotion has been strong since the first Christians worshipped here, pilgrims have been particularly attracted by the piece of cloth known as "The Veil of Mary." Many believe Mary wore it during the Annunciation of Jesus' birth by the angel Gabriel, or during her labor and delivery of Jesus.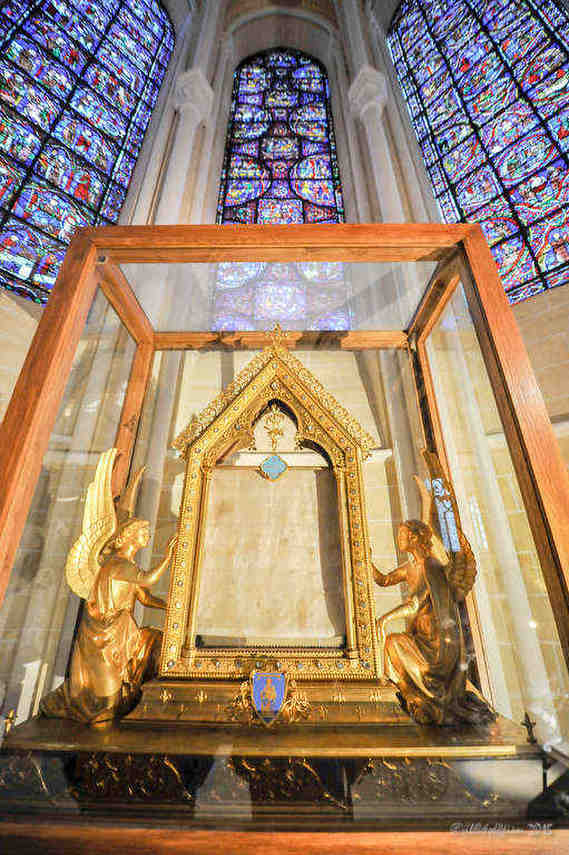 The ecumenical Dombes Group, after studying Mary together for many years suggested, "If you are from a Catholic or Orthodox background, ask Mary to introduce you to her son. If you are from a Protestant background, ask Jesus to introduce you to his Mother." As a Protestant coming to Chartres, I have done just that. I suggest that you follow this wise advice too.
Three Key Depictions of Mary
Most visitors to the cathedral encounter Notre Dame du Pilier, if only in passing. The chapel that houses this statue well-used by local Chartrains and visitors alike. It is unusual to find the chapel empty. The local custom of kissing or touching the pillar helps many to bring all of themselves, body and spirit, to God.
A second statue of Mary, found in the crypt, means a great deal to many. Notre Dame Sous Terre, a modern sculpture of Mary sitting with closed eyes while a young Jesus sits on her lap blessing, replaced a much older statue that was destroyed during the French Revolution.
Our Lady of the Beautiful Window, Notre Dame de la Belle Verrière, is a twelfth and thirteenth century stained glass window that was placed in the East of an earlier cathedral that burned down. Fortunately, the heart of this window, Mary and Jesus, survived. It's blues are beyond description.
Images of Mary Are Found Throughout The Cathedral
Images of Mary are found throughout the cathedral and represent the beliefs and experience of those from the twelfth to twenty-first centuries. One of Jill's long-term goals has been to study and photograph all of these images, whether they are found in a window, on a chalice, as a statue, or in a painting. Jill is also studying and documenting the Marian symbols found both inside and on the outside of the cathedral.
Other pages about Mary on this site:
The Veil of Mary (Subpages: God's Math & The Wetness of Love)
Praying with Notre Dame de la Belle Verrière (subpage; Priez devant Notre Dame de la Belle Verrière)
The Annunciation: Lectio Divina with image from the cathedral
L'Annonciation à la Cathédrale de Chartres
Contemplating Mary's Story in Matthew 1:18-25: Lectio Divina with image from the cathedral
Mary and the Chartres Labyrinth
Bibliography on Mary in Chartres/Bibliographie sur Marie dans la cathédrale de Chartres